our breathtaking newsletter
Weekly gloriousness sent to your inbox.
Sunday, March 1st - 12:00 PM-4:00 PM

DERF Happy Hour
Keep checking back here to find out where the next DERF Happy Hour will be!
Cincinnati bed bugs refuse to be complacent despite #1 national ranking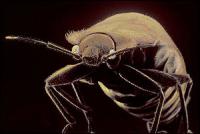 CINCINNATI, OH - The bed bugs of Cincinnati have once again made the city number one in the nation for infestations. Despite the ease with which they won the honor, local bed bugs refuse to become complacent and plan on doing all they can to make Cincinnati the bed bug capital of the world for years to come.

"No matter how creepy and disgusting you make a city, you've always got to look over your shoulder," commented an area bed bug. "There are bed bugs in New York, Detroit and even Columbus who are gonna be coming at you hard, so it's important to always stay on top of your game."

Local bed bugs briefly celebrated after their number one ranking was announced. A small party was held at the Oakley Goodwill store, where bed bugs feasted on champagne and small pieces of human flesh that had been left behind in various pieces of clothing and furniture. But after a short time, the bed bugs declared that it was time to stop partying and get back to work at the Cincinnati Public Library and movie theaters throughout Northern Kentucky.

"Remember, we're a small market bed bug community and there is no revenue sharing," commented one of the bed bugs. "We're going to stay on top of the bed bug universe by always thinking up new ways of infesting, biting, and reproducing. Plus, we're counting on getting some help from people in town who don't like to wash their sheets."