our breathtaking newsletter
Weekly gloriousness sent to your inbox.
Monday, April 6th - 1:00 PM-1:00 PM

DERF Happy Hour
Keep checking back here to find out where the next DERF Happy Hour will be!
Area hipster loses track of which clothing items are ironic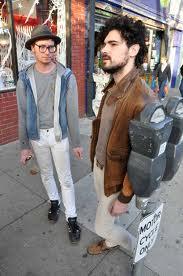 CINCINNATI, OH - Area hipster Brandon McCauley has been under a great deal of stress lately, as his wardrobe has grown beyond his capability to remember which items are ironic. The mental anguish caused by this confusion has resulted in Brandon confining himself in his Over the Rhine loft until he feels he can once again take safely to the streets.

"It all started one day when I caught a glimpse of myself in the mirror at an extremely cool gastropub that you've probably never even heard of," explained Brandon. "I was wearing a Rush t-shirt, and I gave myself a smile, and then I could not decipher what that smile meant. Canada is cool, and Rush is Canadian. But classic rock is stupid so maybe I was being ironic. They are all really awesome musicians, but everyone knows that, so it was like a played out meme. The song Tom Sawyer gets played on corporate radio, but the book Tom Sawyer gets banned by narrow-minded fascists, but they ban it because of the hate speech so....Long story short, by the time I got home I was thinking about all of my clothes so hard, I couldn't even look at one of my three dozen scarves without it making my head hurt."

Brandon has now begun the process of placing any items of clothing that he is not sure of into piles around his apartment. "I'm pretty sure I have all of my hat collection categorized in the correct ironic or non-ironic closets now," he explained. "Though I did spend several hours staring at a fedora with a Madonna pin attached to it. The skinny jeans were all pretty easy to place and most of the belts. But now I'm struggling with the shoes, accessories, and shirts."

McCauley hopes that the sorting can be taken care of as soon as possible so he can get back to his job of posting instagram photos on social media sites and pretending to be a film producer. "I tried to find an easy way out of this," he said. "I asked one of my hip friends if he would design an app to help people like me from losing track of the relative irony of my clothing. He said he'd build it on an HTML5 framework, but now I have to figure out if he is being real or ironic."