our breathtaking newsletter
Weekly gloriousness sent to your inbox.
Thursday, April 2nd - 6:00 PM-8:30 PM

DERF Happy Hour
Keep checking back here to find out where the next DERF Happy Hour will be!
Americans struggle with rising staycation costs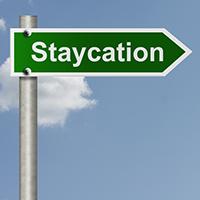 CINCINNATI, OH - During economic downturns Americans have long counted on the staycation as an affordable alternative to costlier travel-based vacations. However, as the economy worsens, travel industry reports indicate even the frugal staycation has become unaffordable to a record number of Americans.

Mason residents Phillip and Kathleen Kellerman have enjoyed staycations with their children for years but have to rethink their options this year due to affordability. Kathleen Kellerman commented, "When the kids were younger, we could give them Nyquil and trick them into thinking we were in Florida after waking up at the Ludlow Yacht Club. But now we need options for older kids."

Prices have risen at reliable destinations such as the Norwood Quality Inn as they've gained in popularity and become staycation hotspots. Another trending staycation is known as the UDFcation which is a visit to the convenient indoor seating area at any local UDF store. UDFcations are often booked several months in advance.

Wealthy families who reside in neighborhoods like Indian Hill have coped with rising staycation costs by finding more creative uses for previously under used resources such as home theaters, putting greens, and riding stables.

Many families are choosing the newly discovered yardcation as a substitute for the traditional staycation. The yardcation is the only subcategory of the staycation that can be accomplished at literally zero cost. Other staycation replacements trending across the country this summer are the Xboxcation, cul-de-sacation, workcation, TravelChannelcation, napcation, and Netflixcation.