our breathtaking newsletter
Weekly gloriousness sent to your inbox.
Monday, April 6th - 1:00 PM-1:00 PM

DERF Happy Hour
Keep checking back here to find out where the next DERF Happy Hour will be!
City Council adds fun mustaches to Fountain Square viral beating video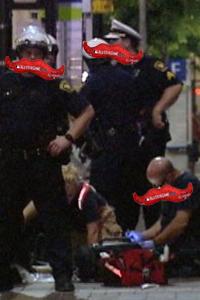 CINCINNATI, OH - In an effort to take some of the bite out of a stinging news story, Cincinnati City Council has decided to take action. Following a viral video depicting a melee and a severe beating, City Council has added fun, old-timey, Mr. Redlegs style mustaches to the faces on the video to help further All Star Game marketing.

"It is important for people to know that we are taking a stand," said Cincinnati Mayor John Cranley. "We are not backing down to violence, and we are not afraid to stand up and take action. Unruly citizens will not keep us from our mission: distracting people from the chaos in our streets by promoting the All Star Game at every turn. I'm very proud of city council for taking this action. Those crazy fun mustaches look just as cool on the dudes beating each other as they do on the top of the Scripps Center."

The video featuring the newly mustachioed faces has not yet caught on with the online viewing public. "I'm sure it's just a matter of time," said Cincinnati council member Charlie Winburn. "I mean, just look at those fun mustaches! It brings to mind those lazy summer days of baseball's past, when guys with fun mustaches played the game with lots of heart, and occasionally stopped the game for a while to beat someone within a half inch of their life."

The city council additions to the video don't stop at just adding Mr. Redlegs style mustaches. "We also put a few striped pill-box style hats in there," said councilman PG Sittenfeld. "And I'm proud to say that it was my idea to end the video with an edited image of Rosie Red and Gapper telling everyone to have a great time while visiting us for the All Star Game, while they dance around the scene. They do a great job of distracting you from the bloody mess on the ground, and then they remind everyone to try the chili."