our breathtaking newsletter
Weekly gloriousness sent to your inbox.
Thursday, April 2nd - 6:00 PM-8:30 PM

DERF Happy Hour
Keep checking back here to find out where the next DERF Happy Hour will be!
Indian Hill High School students spend snow day scrambling for place to buy drugs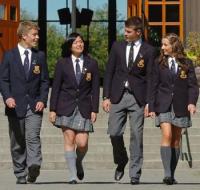 VILLAGE OF INDIAN HILL, OH - Snow hitting the tristate usually leads to school cancelations, and those cancelations are usually a cause for celebration among students. However, recent snow cancellations had a different effect on students in Indian Hill. Instead of celebrating the opportunity to take a day off of school, these students spent their day scrambling for a place to buy drugs.

"I know the roads can be kind of bad," complained Indian Hill Senior Spencer Christie. "But I think the administration needs to weigh several factors before calling off school. I think they are ignoring the psychological and medical impact on students who count on the school day to score drugs. Not to mention the economic impact this has on the various drug dealers at school. Also, let's not forget, this is Indian Hill. Our vehicles tend to perform well in all conditions and our drivers are well insured."

Several local students decided to venture out to Over the Rhine, after hearing rumors that it was a place where drugs could be obtained. "The OTR trip turned out to be a huge waste of time," said Indian Hill Junior Piper Hirsch. "I tried to tell everyone it would be. I've been there before and it's a great place to get some really hip food or fun accessories, but not drugs. The lady in the little dress shop we went to looked at us like we were nuts when we tried to score from her. There is nowhere in OTR to buy drugs. At least not on any of the blocks that are cool enough for me to hang out on. I really could use a nice bump, but I'm not going to hang out with smelly people to get it."

It is uncertain what the result of the inability to buy drugs will mean to the population of the school. "We are going to offer extended hours for any students who would like to talk things out," said Indian Hill Guidance Councilor Saylor White. "We are aware that a day without drugs must have been quite horrific for some of these kids. Dealing with members of the housekeeping staff, actually sitting down and talking to their parents...these must have been rough experiences for them to got through while sober. Hopefully it will be a mild winter."