our breathtaking newsletter
Weekly gloriousness sent to your inbox.
Saturday, October 26th - 12:00 PM-5:00 PM

DERF Happy Hour
Keep checking back here to find out where the next DERF Happy Hour will be!
Norwood and Colerain residents prepare to battle for most fingers lost during 4th of July celebrations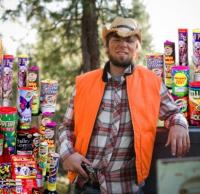 NORWOOD, OH - It's a friendly battle that has been raging for decades. On the line are community pride, bragging rights, and a couple dozen digits. The communities of Norwood and Colerain are once again battling for the title of most fingers lost by citizens during July 4th celebrations.

The hotly contested competition has been going on for decades. "My grandfather helped win the title back in 1958," said Colerain resident Derek Dennison. "He lost his right middle finger and left ring finger while shooting off a roman candle. You almost have to work hard to get that done. Colerain won by two digits that year. If they had an MVP award, I'm sure my Grandad would have won it."

The contest was briefly discontinued in the 1970's after reports of rampant cheating on both sides. "There was a fella by the name of Chris Comer," complained Norwood resident Dan Larkin. "He lost all of his fingers trying to get a Mountain Dew out of a vending machine, but lied his way into getting them into the official fireworks count. Of course, there may have been cheating on our side too. It all turned into a big fight. Then, during the fight, lots of people ended up losing lots of fingers."

The economy was also a factor for several years during the storied contest. "When times are tough," explained Larkin. "When money is tight, people tend to try to take better care of their fingers, in case they want to use them for work, or to sell to the highest bidder on those secret Japanese auction sites. However, when you don't have much money, you end up using cheaper fireworks, older fireworks, or making your own fireworks, so it all evens out."

"We are going to take the title this year," said Newport City Spokesman Carl Winston. "Our mayor has wagered three hundred of Norwood's finest heroin syringes up against Colerain's mayor offering up a 1982 Buick with a mobile meth lab in the trunk. Really, it's a win-win situation."