our breathtaking newsletter
Weekly gloriousness sent to your inbox.
Monday, April 6th - 1:00 PM-1:00 PM

DERF Happy Hour
Keep checking back here to find out where the next DERF Happy Hour will be!
Gang tags mistaken for streetcar markings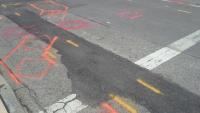 CINCINNATI, OH - Managers are expecting delays in the streetcar project after some communication issues aronse among construction crews. Several instances of gang tags have been mistaken for streetcar markings, causing a diversion of time and resources.

"It was a marking I'd never seen before," said engineer Christopher Larkin. "But I just figured we had some really shaky handed people doing the spray painting that day. I looked in one of my old copies of Asphalt Spraypaint Streetcar Marking Illustrated and found something that looked like what I was looking at. It was three hours later, after we had installed a Swedish Sauna that I realized it was just a gang tag. On the bright side, we might be able to incorporate the Sauna into the streetcar route. The tourists will love it!"

Another day of progress was lost by a series of gang tagging marks that were relatively far away from the proposed route. "There are always some dumb ideas when politicians get involved," said construction worker Travis Brown. "So I didn't think it was that far outside the realm of possibility that there were streetcar markings on the side of an abandoned building, and that they were indicating that the rails would go up, taking the trains up a wall, through an abandoned apartment, and into a new organic brewery and fair-trade coffee location. Luckily, before my crew got back from break, another gang had tagged over it and I figured out what was going on."
Local businesses have devised a way to use the markings for their own purposes. The popular restaurant, Taste of Belgium, has attached unique meanings to the symbols to represent a complete carryout menu. Using smart phones customers can use the Taste of Belgium app to translate the symbols and auto-generate carryout orders.

Project managers say that the gang tagging will not continue to be a problem now that they are aware of it. They have given each member of the engineering and construction crews a Streetcar marking to English secret decoder ring, and have been advised to seek counsel from local gang leaders in the event they see a marking that does not match their official guide.