our breathtaking newsletter
Weekly gloriousness sent to your inbox.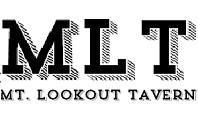 Friday, October 31st - 11:30 AM-11:00 PM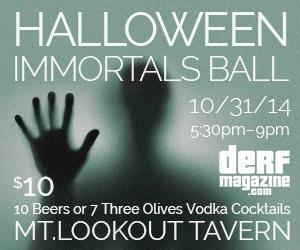 DERF Happy Hour
Friday, Oct 31 - 5:30PM-9:00PM
America slow to embrace tear gas bucket challenge to benefit Ferguson Missouri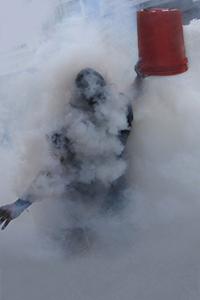 NEW YORK, NY - The ALS ice bucket challenge has been all the rage on social media of late. An attempt to follow up on it's success however has thus far fallen flat. America appears to be slow to embrace a recently created 'tear gas bucket challenge' which was set up to benefit beleaguered Ferguson, MO.

"I was really hoping this would catch on," said tear gas bucket challenge innovator Derek Hollis. "After seeing how big the ice bucket thing was, and with the Ferguson story being all over the news, I figured my news feeds would quickly be full of all of thousands of people dumping buckets full of tear gas over their heads and then challenging their friends to do the same. Some have told me it's because it's a dumb idea, but I'm still gonna blame it on Facebook algorithms screwing up so not enough people see my posts."

Sociologist and social media expert Kevin Coughlan has attempted to make sense of the situation. "In some ways, it's easy to understand why people have avoided this challenge," Coughlan explains. "Besides the fact that this is a polarizing issue and the challenge does not seem to support one side or the other, there is also the widely held belief that tear gas is really, really painful. However, American's desire for social media self-aggrandizing usually overcomes such obstacles. Maybe everyone is just having trouble finding tear gas at their local WalMart."

"Maybe I'll get around to it eventually," said social media user Trevor Wolfe. "I'm still getting plenty of hits on the challenge I did for ALS. In fact, I still get lots of likes on the videos of me jumping in a pool for diabetes, and planking for colitis, so I feel like I've done all the charity work I need to do for a few years now."

Despite his passion for the idea to go viral, Hollis has been unable to shed light on the purpose behind the challenge. "Well, it's, you know, all about awareness," said Hollis when pressed to explain the point. "You've got a situation there where the cops are mad and you've also got protestors who are mad. I'm sure that as soon as my idea catches on, the awareness raised and the money that is donated will help calm the situation in some manner. So, how about you take this GoPro and this bucket of teargas and help me get the ball rolling?"