our breathtaking newsletter
Weekly gloriousness sent to your inbox.
Monday, April 6th - 1:00 PM-1:00 PM

DERF Happy Hour
Keep checking back here to find out where the next DERF Happy Hour will be!
TriState road work to be confined to holiday weekends and rush hour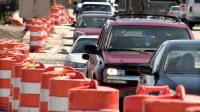 CINCINNATI, OH - Transportation officials have been so encouraged by the resounding success of conducting extensive road work during Memorial Day weekend that they have decided to make it standard procedure. From now on, all road construction will take place during heavily travelled holiday weekends and during rush hour.

"When you find a good thing, stick with it," said transportation spokesman Howard Everett. "Having our construction take place when there are plenty of people on the road works out great on many levels. For example, it gives more people the opportunity to see just how hard we're working, as they slowly drive by and perhaps stop next to us while we're doing it."

Officials may consider expanding construction shifts beyond these times. They are also considering implementing swing shifts of traffic work that would commence on areas around downtown one to two hours before and after Reds games. There is also consideration of some summer shifts that would take place in the same time frame before and after concerts at Riverbend Music Center.

Other plans include shifts on roads outside of churches that would take place before and after services, repaving of roads before, during and after holiday parades, and a complete overhaul of all roads, bridges and downtown streets to take place on Labor Day Weekend before the fireworks.