our breathtaking newsletter
Weekly gloriousness sent to your inbox.
Sunday, June 24th - 6:30 AM-10:00 PM

DERF Happy Hour
Keep checking back here to find out where the next DERF Happy Hour will be!
Gov. Kasich bans bananas from all state approved fruit salads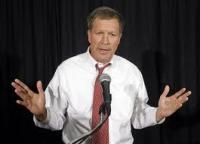 COLUMBUS, OH - Following the departure of Cincinnati based Chiquita to North Carolina, Ohio Governor John Kasich has proclaimed that bananas are no longer welcome in state approved fruit salads.

"Let the word go forth from this time and place," declared Kasich. "That the great state of Ohio is taking action. That we are focused on jobs and the future. And that bananas tend to brown and spoil fruit salad anyway."

The new rule will go into effect immediately. Moments after Chiquita announced the decision to move to North Carolina, Ohio State troopers were sent to the Capital cafeteria to forcibly remove bananas from the fruit salad, causing quite a commotion during lunch. "I thought we were having an anthrax scare or something," said Ohio Speaker of the House William G. Batchelder. "But then I found out that it was something much more important, because it involved lunch."

As a replacement for the bananas, Kasich has several recommendations. "How about something that truly represents our great state," he suggested. "Throw some Buckeyes in there. Or maybe some goetta. Or one of those big sandwiches with the slaw and fries on them that they have up in Cleveland."

So far, all state approved makers of fruit salads have complied with the ruling. Kasich has let it be known that anyone trying to defy his initiative will have state funds pulled, and may be visited by the Ohio National Guard for forcible banana removal.