our breathtaking newsletter
Weekly gloriousness sent to your inbox.
Saturday, June 23rd - 7:30 AM-12:00 AM

DERF Happy Hour
Keep checking back here to find out where the next DERF Happy Hour will be!
Cincinnati seeks transportation funds for OTR piggyback rides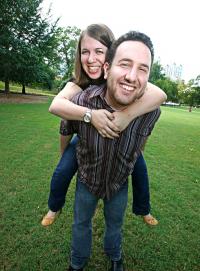 CINCINNATI, OH - In an effort to increase transportation options within the neighborhood of Over the Rhine, Cincinnati City Council has begun the process of seeking federal transportation funds to pay for a system of piggyback rides.

"This is a plan that will pay for itself in the first week," said Councilman PG Sittenfeld, making a remark that he says after nearly every question he is asked. "The revenue that is brought in from a wide ranging system of human sleds with hearty backs will make our city coiffeurs burst. Eventually, the city might have as much money in the bank as my parents gave me for Junior High School graduation."

The plan involves acquiring federal transportation dollars and then setting up a system of piggyback rides. Passengers would be hoisted on to the backs of Piggyback Transportation Engineers and carried to various destinations throughout Over the Rhine. "We expect the most popular routes to be travelled by hundreds of people an hour," said assistant Cincinnati civil planner Kevin Bertzen. "We're going to need a lot of manpower moving the ever-growing lovers of Over the Rhine from Washington Park to Findlay Market. And they're gonna have to be even stronger for the piggyback rides away from Findlay Market, since they will also need to carry the passengers produce and groceries. And, did I mention, we're pretty sure this will somehow solve the parking situation."

Anti-spending citizens action group COAST has come out against the plan. "We're not really sure what the plan involves," said COAST spokesman Derrick Langston. "We don't know how much it is going to cost, how much taxpayer money is involved, or what it will actually pay for. However, it seems like something that might make people in the city happy, so we're against it."

Much like their opposition at COAST, proponents of the plan are also not exactly sure of the plan's details. "I guess we give the money to the people who are giving the piggyback rides," said Councilman Chris Seelbach. "Unless we can find some homeless dudes willing to do it in exchange for expired beer donated by local business. Then I guess we'd just pocket any money we get from the Feds in a true win-win paradigm. All I know is someone told me they do something similar to this in Portland, so it must be a fantastic idea."

"This is a plan that will redefine the City of Cincinnati," reiterated Councilman Sittenfeld. "I foresee a day where tourists will visit our fair city just to see our famous piggyback transportation system. Like the images of cable cars and the Golden Gate bridge appear in people's minds when you mention San Francisco, someday, the name Cincinnati will invoke the thought of a sweaty, lumbering person walking down the street with a heavily bearded hipster atop his back. Perhaps it will become the next City Seal."