our breathtaking newsletter
Weekly gloriousness sent to your inbox.
Wednesday, April 8th - 9:00 AM-7:00 PM

DERF Happy Hour
Keep checking back here to find out where the next DERF Happy Hour will be!
20 important impacts of the government shutdown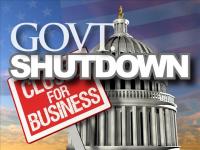 CINCINNATI - It's been 17 years since the federal government last faced a partial shutdown because Congress and the President couldn't agree on a spending bill. The situation leaves federal employees, citizens and even government decision-makers confused about the impacts of a shutdown.

Here are the most important local and national changes people can expect.


1. Off-duty local bartenders will staff all OVI police check points - Expect much friendlier service while being questioned. Tips are gladly accepted.

2. Cincinnati IRS targeting operations will continue on a voluntary basis just for fun - Many have signed up to work the extra unpaid hours, sighting the intense thrill they get from watching FOX news anchors fume.

3. Members of Congress will plan a low budget cruise vacation on the Costa Concordia - In lieu of the usual high priced cruise ship entertainment, Kathy Lee Gifford has offered to perform an experimental one woman show.

4. Eden Park Gazebo will remain fully functional thanks to relentless effort of Councilman PG Sittenfeld - Just this morning, PG and his 'Action Team' visited the gazebo to ensure it's safety and general preparedness. After four minutes of inspection and twenty minutes of photo ops, it was declared fully functional.

5. Taste of Norwood Final Selection Committee will not be paid during shutdown - Most members of the panel agree that the opportunity to taste a variety of Norwood sourced food is payment enough. Others are required to be on the panel as condition of their parole.

6. The Amanda Bynes situation will continue to be monitored - Several Congressional subcommittees have promised that this national nightmare will not be allowed to progress. Ms. Bynes threat level remains 'orange'.

7. Cincinnati Streetcar planning will be managed by residents of the Cincinnati Zoo - One of the smarter monkeys has been named chairman, and now has plans to run as a write in candidate for mayor.

8. Nationwide craft beer supply to remain uninterrupted - Reserves of craft beer will be tapped to bolster the critical craft beer supply during the shutdown.

9. Air Traffic Controllers to be replaced by the more experienced Delta Air Lines luggage search team - The FAA remains cautiously optimistic that the luggage search team will not respond to stress in their usual manner: by throwing luggage into a trash compactor.

10. The Curiosity Mars Rover will be operated by a volunteer Google Glass beta tester - Of the several Google Glass beta testers who volunteered, only one was able to secure a ride from his mom's house for the necessary hours.

11. Dennis Rodman will assume Secretary of State duties - He becomes the most sexually ambiguous Secretary of State since John Kerry, who was the most sexually ambiguous Secretary of State since Hillary Clinton.

12. All NASA projects will be funded with a Kickstarter campaign - Projects needing an extra push of funding will request help from Zack Braff

13. Gun buyback programs will be converted to sellback programs - Sellback prices will begin at two tickets to a local zoo. The government has shown indications of being willing to sell some lesser handguns for expired candy.

14. UDF rotating hot dog machines will go on rolling blackouts to reduce energy usage - The smart energy will actually use radioactive elements within the hot dog meat to facilitate power usage.

15. Local dog parks will operate on a limited one-in one-out system - Dogs will still, however, be tested for temper issues. Aggressive dogs will have to spend their lone time in the dog park sequestered in a 5x5 cage.

16. Syrian chemical weapons will be self-monitored with an honor system - Coffee in the weapon inspector break room will also be on the honor system. Please note if the coffee pot is stolen one more time, the program may be fully revoked.

17. Government workers under level 200 forbidden from playing Call of Duty before lunch - After lunch, however, all employees must be actively engaged in some form of video game war activities.

18. City of Detroit status will escalate from bankruptcy to padlocked - The padlock has not yet been paid for. There is a chance of using the one used to secure Cleveland during the 1970's if someone can find the key.

19. History of the word furlough will be explained in a four-part PBS mini-series - Ken Burns wanted too much money to produce the series, so PBS has enlisted Mellisa Joan Hart. She has promised to collect her entire salary via Kickstarter donations.

20. Time Warner Cable call center 90 minute wait time will remain uninterrupted - However, if you hang up, you will lose your place in line and may have to wait until the next government shut down to regain your 90 minute wait time.