our breathtaking newsletter
Weekly gloriousness sent to your inbox.
Monday, April 6th - 1:00 PM-1:00 PM

DERF Happy Hour
Keep checking back here to find out where the next DERF Happy Hour will be!
HIGH SPEED CHASE: Unicycle fugitive no match for Segway Cop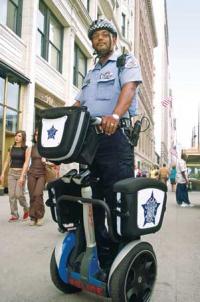 CINCINNATI - City officials praised the Cincinnati Police Department's recent decision to deploy Segway vehicles this week following a high speed chase that ended in the successful capture of a felon riding a unicycle.

A police officer on a Segway apprehended the felon after a wild chase that stretched almost 500 yards over a two hour period and reached speeds of nearly 9 miles per hour. Several children riding pedal-powered vehicles also joined the chase and assisted in apprehending the unicycle.

Heralded by police officials as an agile urban police vehicle, the Segway has a top speed of 12 miles per hour and is reportedly well equipped to handle high speed chase situations involving unicycles, pogo sticks, elderly pedestrians, and wheelchairs.

A spokesman for the Cincinnati Police Department commented, "The Segway virtually eliminates these types of vehicles as viable get away options. This may force criminals to resort to using automobiles and motorcycles. If they do, we'll find a way to catch those vehicles also."