our breathtaking newsletter
Weekly gloriousness sent to your inbox.
Friday, November 22nd - 11:00 AM-9:00 PM

DERF Happy Hour
Keep checking back here to find out where the next DERF Happy Hour will be!
CITY COUNCIL FINDING: Police brutality caused by use of excessive force.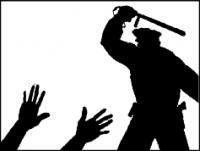 CINCINNATI - A recent study commissioned by Cincinnati's City Council concluded excessive force is the single largest contributing cause of police brutality. In 100% of several hundred cases, investigators determined excessive force was the sole cause of the brutality.

Council member John Cranley said, "There are still many questions but many of us on the Council now believe curbing the use of excessive force may be the pathway to decreased police brutality."

A Cincinnati Police Department representative said, "We are shocked to learn of this overwhelming connection between excessive force and police brutality."

In a measure to train officers, the Cincinnati Police Department has initiated an internal poster campaign featuring the expression, "Excessive Force is a No-No".

Other studies recently commissioned by City Council include:
1. The impact of murder on local homicide rates.
2. The impact of high school drop-outs on declining graduation rates.
3. THe impact of drug sales on the illegal narcotics industry.
Related Stories