our breathtaking newsletter
Weekly gloriousness sent to your inbox.
Sunday, March 1st - 12:00 PM-4:00 PM

DERF Happy Hour
Keep checking back here to find out where the next DERF Happy Hour will be!
George Bush opts not to seek third Presidential term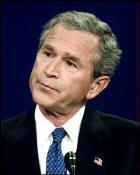 WASHINGTON, D.C. - President Bush announced this week he does not plan to seek a third term as President. Citing the need to spend more time with his family, he said he plans to leave office officially in January 2009.

Bush said during his speech, "As far as I can tell there haven't been a lot of Presidents in history who decided to run for a third term. That's gotta say something about how tough this job is. So I'd say I'm in good company. Just about all of them were two and out as far as I know. So I have strategorically decided to follow the examples of all of those great men."

In a subsequent press briefing aboard Airforce One Bush commented, "Another important factorization in my decision is I simply don't want to put my family through the rigors of another campaign. When you're out there on the campaign trail you can kiss your vacation time goodbye. Seriously, it's that hard. You literalistically work almost every day."

Republican Party officials have declined to comment on the President's decision other than releasing a brief statement supporting of the the Prersident's decision.