our breathtaking newsletter
Weekly gloriousness sent to your inbox.
Saturday, June 23rd - 7:30 AM-12:00 AM

DERF Happy Hour
Keep checking back here to find out where the next DERF Happy Hour will be!
Russia plans wall to block Palin's view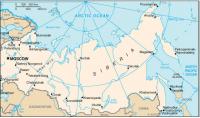 RUSSIA - Government intelligence reports released to the media this week indicate Russia has plans to construct a 2,000 mile long wall intended to block the view from Alaska. Reportedly Russian leaders were unaware of the security breach until Sarah Palin mentioned her view during her Vice Presidential campaign.

Russian Ambassador Vladimir Krzsestovsy travelled from Washington D.C. to Sarah Palin's home shortly after she publicly stated she can see Russia from her front porch. The Ambassador stood on her front porch and confirmed he could see Russia which set in motion monumental plans for one of the largest man-made structures in history.

The massive structure will be over 30 feet high which is high enough to block the view from the roof of Palin's two-story home and the homes of her neighbors.

While relaxing after the campaign on a moose hunt with her family, Sarah Palin commented, "Well that's too bad. We'll just have trek up to higher ground with our our snow machines for a better vantage point."