our breathtaking newsletter
Weekly gloriousness sent to your inbox.
Friday, November 22nd - 11:00 AM-9:00 PM

DERF Happy Hour
Keep checking back here to find out where the next DERF Happy Hour will be!
Bush offers to stick around during transition if necessary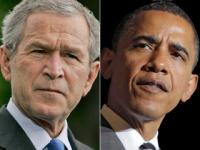 WASHINGTON, D.C. - During an initial meeting on the White House lawn with President-Elect Obama, President Bush said if he is needed during the Presidential transition he is committed to being available. Public transcripts of the meeting indicate Bush also handed Obama a things-to-do list written on a Post-It Note and said, "Here's the list I've been working on for a while. That's Dick Cheney's hand-writing so call him if you have trouble reading all those big words."

White House staff members informed senior members of the Obama transition team this week that President Bush has extensive vacation plans during the transition but is absolutely willing to jump on an occasional conference call if needed.

While Bush toured the White House with Obama, members of the press corps reported the President sometimes appeared to lose his sense of direction indicating he was unfamiliar with the general layout of the White House. Bush appeared especially disoriented in the vicinity of the Oval Office. One reporter said off the record, "It almost looked as if he had never been there before."