our breathtaking newsletter
Weekly gloriousness sent to your inbox.
Friday, December 13th - 5:00 PM-10:00 PM

DERF Happy Hour
Keep checking back here to find out where the next DERF Happy Hour will be!
Obama family selects John McCain's puppy as White House dog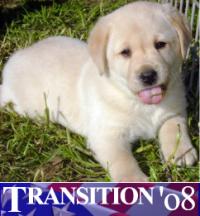 WASHINGTON, D.C. - After an exhaustive search for a compatible White House pet led by the Obama daughters, the family has selected John McCain's yellow lab Ranger. In January, he will join the new President and his family in the White House. The Obama transition team informed John McCain this week of the Obama family decision and requested his cooperation in a smooth transition.

John McCain was graceful but obviously stung by the loss. He wished Ranger well in his new endeavor and said that he will do his best to aid in the transition. "It's time for Cindy and I to move on, I suppose....assuming she is still there when I get home."

Like millions of other Americans, Ranger has been won over by the charm and charisma of President-Elect Barack Obama. Ranger has had White House ambitions since early puppyhood, lured by the plentiful rose bushes, personal chef, and over 25 fire hydrants on the white house grounds. When the McCain campaign began to slide in the polls, he turned an eye and big floppy ear to the Obama campaign.

"There was something in that dogs eyes that attracted the whole family to him," said Obama. "This dog looked like he wanted change. I am sure in the years to come, whether I am asking him to sit, lay down, roll over, or stop licking himself in front of guests, I'm sure his answer will be "Yes I can."