our breathtaking newsletter
Weekly gloriousness sent to your inbox.
Friday, December 6th - 5:00 PM-10:00 PM

DERF Happy Hour
Keep checking back here to find out where the next DERF Happy Hour will be!
Governor Blagojevich's hair stylist also indicted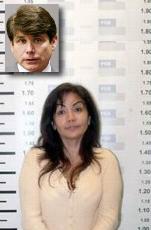 CHICAGO - As the trial of Illinois Governor Rod Blagojevich begins, Authorities have announced the arrest of the Governor's longtime hair stylist Maria Lopez. Police records indicate Ms. Lopez was charged with aiding and abetting one of the worst haircuts in Illinois history.

Historical photos reveal Lopez first gave the Governor this hair style in 1983. At that time the hair style was common among men of Rod Blagojevich's age and it was not considered particularly offensive. As the 80's decade came to a close the style was beginning to look somewhat out of date however there is no evidence Lopez made any attempt to convince Blagojevich to adjust the style.

By the mid-90's the hair style was so out of date it was considered offensive to people who knew him. Despite staunch objections to the hair style from his closest advisors, Blagojevich chose to run for the U.S. House of Representatives in 1997 with his 1984 haircut. "My stylist has not recommended a change. I pay her for her expert opinion in these matters."

Although polls indicated the public was growing less tolerant of his hair style, Blagojevich insisted on maintaining the hair style as he entered the 2002 Illinois Gubernatorial race. Lopez reportedly credited Blagojevich's hair style for his successful campaign. People close to the Governor say this permanently cemented Blagojevich's commitment to the 1984 hair style.

The Illinois Attorney General's office filed the case against Lopez after reportedly collecting a large volume of evidence indicating she consistently led Blagojevich to believe his hair style was necessary.