our breathtaking newsletter
Weekly gloriousness sent to your inbox.
Saturday, June 23rd - 7:30 AM-12:00 AM

DERF Happy Hour
Keep checking back here to find out where the next DERF Happy Hour will be!
Bush library downsized to informational kiosk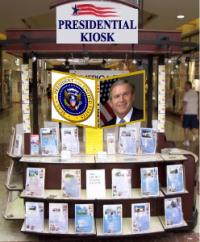 BARTIN CREEK MALL, AUSTIN, TX - Blaming the struggling economy and a general lack of interest, planners of the George W. Bush Presidential Library have decided to discontinue plans for a library in favor of an informational mall kiosk which will feature chronicles of the Bush Presidency in pamphlet form. Also refrigerator magnets and complimentary mints will be available.

Library planners steadily downsized the plans for a sprawling nine acre complex. They first considered a single family house suburban location, then a three room trailer in Waco, then an abandoned Ford Focus located off the Interstate outside of Dallas. Ultimately, they decided an informational kiosk at the Bartin Creek Mall in Austin was the most appropriate solution.

The site will be twenty square feet in total size, located on the second floor between the Sunglass Hut and across from the Cinnabon. In addition to general informational pamphlets the kiosk will also feature items from the White House including hand soaps from the Lincoln Bedroom, the official presidential stapler Bush used while in office, and an autographed photo of the President standing with Chuck Norris, which is on loan from the Chuck Norris museum.

The kiosk will be staffed by Bill Stallsworth, a retired security guard senior citizen who used to work at the Mall's information desk. Bill is thrilled to have the position saying, "This job is really gonna keep me on my toes. I expect to have a lot of visitors, especially when Cinnabon has their free samples out." Mr. Stallsworth has been trained to answer all questions from visitors, which may range from the No Child Left Behind Act to how to find the Mall's bathrooms.

The final plans for the layout are being developed by the Thompson Corporation, a company that previously engineered the Dan Quayle Vice Presidential Museum and Hawaiian Shaved Ice Stand in Huntington Indiana.