our breathtaking newsletter
Weekly gloriousness sent to your inbox.
Sunday, January 19th - 11:00 AM-5:00 PM

DERF Happy Hour
Keep checking back here to find out where the next DERF Happy Hour will be!
Shadow Hare Allegiance of Super Heroes denies Simon Leis membership application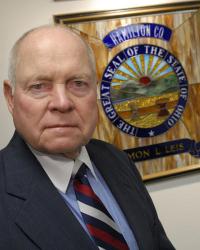 CINCINNATI – Hamilton County Sheriff Simon Leas was denied entry this week into Cincinnati's Allegiance of Super Heroes led by popular crime fighter Shadow Hare. After thoughtful consideration, Shadow Hare decided Sheriff Leis is not ready to be a super hero. "We'd like to acknowledge that although the Sheriff isn't ready to be a super hero, he has nevertheless served our community well over the past twenty years."

From his home in Cincinnati, Sheriff Leis expressed disappointment, "I thought my crime fighting record prepared me for life as a super hero. I was counting on my twenty years experience as the Hamilton County Sheriff to get me in. Shadow Hare said I'm not ready. I trust Shadow Hare's judgment but I'm still devastated. Admittedly, I can't jump very high and I've lost a little speed due to smoking cigars. I'll work on those things."

Reportedly, the Sheriff was subjected to a battery of tests at his testing facility at the Shadow Hare's mom's house in Milford where Shadow Hare currently resides. Shadow Hare commented, "We ran the Sheriff through our highest level of testing we like to call Over-the-Rhine: Judgment Day. The testing simulates handing out sandwiches to homeless people in Over-the-Rhine while dodging bullets and tazing drug dealers."

Sheriff Leis commented on his test results, "Sure, Over-the-Rhine made me a little nervous. Who wouldn't freeze up a little in that kind of harsh criminal environment. With more training I think I could adapt."

Those close to Sheriff Leis have always considered becoming a super hero to be the crown jewel of his career. Reportedly the Sheriff had a super hero uniform custom designed by Cappels and he also copyrighted the name Captain Ohio."

The Sheriff's red, white, and blue Lycra super hero suit will have to wait in the Sheriff's closet for another year before the Sheriff gets another chance to try out for the Cincinnati Allegiance of Super Heroes.