our breathtaking newsletter
Weekly gloriousness sent to your inbox.
Saturday, June 23rd - 7:30 AM-12:00 AM

DERF Happy Hour
Keep checking back here to find out where the next DERF Happy Hour will be!
Japanese Air Force photo op at Pearl Harbor creates panic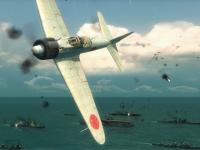 O'AHU, HAWAII - Panic-stricken residents and military personnel are still trying to recover from the shock of seeing the skies above Pearl Harbor suddenly filled with Japanese aircraft. Luckily for local citizens, and the US Pacific fleet, the planes were simply flying over to be photographed for Japanese Air Force promotional literature.
Early morning on Sunday, the sky above Pearl Harbor became dotted with over three hundred Japanese planes. Military personal were shocked to see the planes enter the airspace, some flying by close enough that the red rising sun emblem was visible to the naked eye. Speaking on the condition of anonymity, a high ranking member of the U.S. military said, "This is an outrageous and unforgivable breach of the public trust. We would never allow something of this magnitude to happen in the U.S. without clearly notifying the local government and public. "
Visitors to the Pearl Harbor Memorial seemed confused by the sudden influx of planes. "I thought it was one a re-enactment of December 7." said Warren Grayson, a visitor from Des Moines. "Then the military guys started scrambling, so my wife and I took cover in the gift shop."
President Obama stated that Japan will be held accountable for this reckless act. The President also said, "Although he understands a good photo opportunity with a plane is hard to resist, this kind of recklessness will not be tolerated in the U.S. That's not how we do things here."

It is not certain when the pictures will be used in the Japanese Air Force literature. Reports indicate over one thousand pictures were taken during the fly over, plus several thousand more taken by Hawaii's many Japanese tourists.