our breathtaking newsletter
Weekly gloriousness sent to your inbox.
Sunday, December 15th - 5:00 PM-9:00 PM

DERF Happy Hour
Keep checking back here to find out where the next DERF Happy Hour will be!
Homeless to be tastefully covered with KEEP CINCINNATI BEAUTIFUL blankets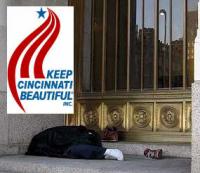 CINCINNATI – Recent comments by Hamilton County Commissioner David Pepper regarding the problem of homeless people sleeping on the plaza of the courthouse has led to plans to distribute KEEP CINCINNATI BEAUTIFUL blankets among the sleeping homeless. Beginning next week a group of homeless advocates and county employees will gently place a blanket over each homeless person after they have fallen asleep.

County officials say the blankets are intended to help give the courthouse an upgraded aesthetic image. A longtime courthouse employee said people may see the homeless people sleeping under the blankets and say to themselves, "How wonderful. This appears to be a modern exhibit aimed at highlighting our city's natural beauty."

Commissioner Pepper stated, "This plan effectively transforms the homeless people from eyesores to Cincinnati's ambassadors of beauty."

"This is a positive collaboration that solves the aesthetic problem while providing additional comfort to the homeless," said Josh Summer, Director of the Greater Cincinnati Coalition for the Homeless.
Officials also say a more permanent solution in the early stages of design is a KEEP CINCINNATI BEAUTIFUL suit which each homeless person will be asked to wear on a daily basis. Trevor Spring, Director of the Drop Inn Center of Over-The-Rhine commented, "The improvements to our city's image will