our breathtaking newsletter
Weekly gloriousness sent to your inbox.
Wednesday, April 25th - 6:30 PM-8:30 PM

DERF Happy Hour
Keep checking back here to find out where the next DERF Happy Hour will be!
Dick Cheney in secret, secure location playing Modern Warfare 2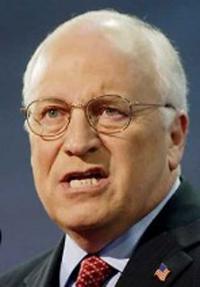 WASHINGTON, DC - Aides to former Vice President Dick Cheney have confirmed that he is in an undisclosed, secure location making his way through each and every part of the 'Call of Duty: Modern Warfare 2' video game. Cheney spends up to fourteen hours a day playing the game on his Playstation 3.

"The former Vice President continues to serve his country," explained staff member Richard Clemens. "It just so happens his service at the present time involves a simulated top secret mission in Russia that involves killing hundreds of civilians. He is, obviously, not to be disturbed."

Cheney has not issued any statements on foreign policy for several months. The only official comment he's released came two weeks ago after the video game arrived at his secret compound when he stated, "This game is crazy sick."

Cheney has reportedly been excelling at the game, making his way through several campaigns an hour. He stops only for occasional heart surgery.