our breathtaking newsletter
Weekly gloriousness sent to your inbox.
Saturday, June 23rd - 7:30 AM-12:00 AM

DERF Happy Hour
Keep checking back here to find out where the next DERF Happy Hour will be!
Donald Trump announces 2016 fake presidential bid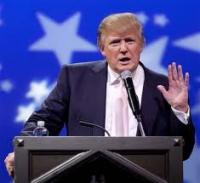 NEW YORK, NY - After achieving success and notoriety from pretending he wanted to run for president in 2012, 2008, 2004, 2000, and 1996, Donald Trump has already organized a committee to explore another fake presidential run in 2016.

"My fake ambition to become president inspired this nation," said Donald. "I will not let this fake dream die, so we're moving forward with plans to explore another fake run in 2016. I look forward to all the attention my fake campaign gets from the news media, reality show television viewers, and assorted other retards."

After seeing what a boost a fake presidential run can be, several other reality show stars have considered creating fake exploratory committees of their own. Kate Gosselin has hired political strategist Ed Rollins to head up a potential fake run of her own. "If anyone can be the leader of eight adorable children," said Kate. "Then surely they can be the leader of this great country." This lone statement was enough to increase the ratings of her reality show while at the same time making her the frontrunner for Republican nominee in an Iowa caucus straw poll.
The Hills reality star Audrina Patridge has also decided to launch a 2012 fake presidential run. "Lauren and Whitney told me a fake presidential run is probably the only thing that will help my already struggling reality show on VH1." said Patridge.
"No matter what the political landscape is like in 2016," explained Trump. "There will be room for my fake presidential run. There will never be a time in America that isn't ripe for capturing the imaginations of idiots."

Trump's decision to drop his fake candidacy and not to seek the Republican nomination in 2012 leaves Newt Gingrich as the last remaining announced fake candidate.