our breathtaking newsletter
Weekly gloriousness sent to your inbox.
Saturday, June 23rd - 7:30 AM-12:00 AM

DERF Happy Hour
Keep checking back here to find out where the next DERF Happy Hour will be!
Hurricane Irene violently disrupts Steve Chabot's hair during town hall meeting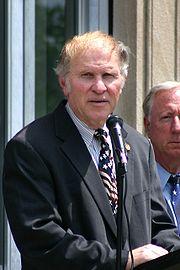 CINCINNATI, OH - Controversy continues to swirl over Steve Chabot's town hall meetings. Hurricane Irene has been blamed for sweeping into Chabot's latest get together and disrupting his hair.

Chabot was busy scanning the room at the time. Looking around to make sure that he was getting a good angle for any and all videocameras that were there to capture the meeting. Just as he flashed a smile and a wink to a camera in the corner, Hurricane Irene entered the area and violently disrupted his hair.

Police and security forces were on hand, but were unable to stem back the disruption. "At the point when we realized we were in the eye of Steve Chabot's hair, we politely asked Hurricane Irene to cease the hair disruption," said Officer Brian Raines. "It quickly became apparent that Hurricane Irene had no intention of abiding by Congressman Chabot's rules that his hair not be disturbed during any town hall meetings."

Onlookers gasped as Chabot's hair unraveled from its usual position of coiled around his head and fanned out over the crowd. There were moments of panic as the scope of the hair disruption became apparent. "I tried to take cover as soon as possible," said town hall attendee Rob Denenger. "But before I knew what was happening I was being walloped by pieces of hair that had probably first started growing in the early 70's."

Following the initial disruption, there was a period of calm as the town hall meeting was directly within the eye of Steve Chabot's hair. "It was surreal in there," said attendee Wayne Carlton. "Only a slight swaying breeze, holding Steve's hair aloft like it was angelically floating from the lectern at the front of the room to the back door fifty yards away. But then came the back end of the storm and all hell broke loose again."