our breathtaking newsletter
Weekly gloriousness sent to your inbox.
Monday, May 27th - 1:00 PM-1:00 PM

DERF Happy Hour
Keep checking back here to find out where the next DERF Happy Hour will be!
Bin Laden: "What a pleasant surprise that most of my 72 virgins look exactly like Michelle Obama."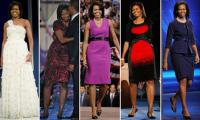 Following his death, Osama bin Laden has released a videotaped message from the afterlife including a statement indicating most of his seventy two virgins bare a striking resemblance to first lady Michelle Obama.

"How very pleasant!" said bin Laden upon meeting them. "I was worried that I would end up with seventy two swine or unclean beasts like my 7 earthly wives from Afghanistan!"

According to some, Muslim martyrs are presented with seventy two virgins upon their death. It is not certain what happens to the virgins after they are presented, but in this case, it appears they will all gather to watch some of Bin Laden's favorite videotaped messages. "I can't wait to gather the ladies around so they can watch me," said the dead terrorist. "I'm sure we'll all have some chuckles at my blooper reel. I do hope they all have the same infectious laugh of Michelle Obama!"

Though many of the virgins supposedly resemble the first lady, several others are reported to look like former first lady Laura Bush. Reportedly, a few resemble Secretary of State Hillary Clinton, and at least one resembles her husband Bill. "I am very pleased with this selection of virgins. This perfect cocktail of ladies is everything I needed to continue my vengeful mission in the afterlife."