our breathtaking newsletter
Weekly gloriousness sent to your inbox.
Saturday, September 21st - 8:00 AM-10:00 AM

DERF Happy Hour
Keep checking back here to find out where the next DERF Happy Hour will be!
Boehner unable to hide laughter when fake crying about Congressman Weiner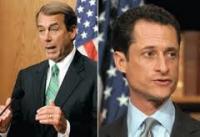 WASHINGTON, DC - John Boehner's efforts to condemn Congressman Anthony Weiner have not fared well, as he is unable to hide laughter while fake crying over the scandal. The Speaker of the House's efforts to express disdain while providing leadership on the subject have been diminished by the constant chuckling.

"It is important to show moral leadership," Congressman Boehner sobbed. "That is why I say Weiner should stand up..." Boehner was unable to finish the sentence, as his fake sobs were quickly overtaken by laughter that he was unable to hold back.

Republicans have sought to make political points on the subject, as the embattled Congressman Weiner is defying the party's leadership to resign. Fellow Republicans have are privately upset with Speaker Boehner for being unable to make points on the issue without having his fake sobs interrupted with laughter. Most recently, Boehner took to the house floor urging Weiner to resign. He began to make the point that Weiner had taken a rigid position, and once again was unable to finish the speech due to laughter.

Some feel that John Boehner has a deep seeded sympathy for Weiner, despite all of his personal and moral failings. However, Boehner is quick to point out that he is disgusted by Weiners actions and wants him to resign. "This is a man who I don't want to serve with in the House," said the tearful Speaker during a press conference. "I would like my political career as far away from his as possible. In fact, if he were running for President and asked me to be his VP, I would decline. I have no interest in being part of a Weiner/Boehner ticket...." Speaker Boehner then ended the press conference by falling on the floor in laughter.