our breathtaking newsletter
Weekly gloriousness sent to your inbox.
Friday, November 22nd - 11:00 AM-9:00 PM

DERF Happy Hour
Keep checking back here to find out where the next DERF Happy Hour will be!
PG Sittenfeld packs up campaign headquarters in parents' basement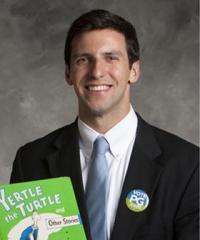 CINCINNATI, OH - After a successful campaign for Cincinnati City Council, PG Sittenfeld has packed up the campaign headquarters he established in his parents' basement.

"I'll miss this basement as my campaign headquarters but it's still my apartment until I find a roomate and move into the Brookestone apartment complex in Oakley." said PG. "I need to move out pretty soon because my mom buys discounted clothes at outlet malls and resells them on eBay so she needs the space."

"I am ready to go about the business of leading Cincinnati on city council. Although I am not entirely sure what the job entails. Hopefully, I get a parking spot and a couple hours for lunch and a desk where I can put up my bobbleheads and power rangers. And I really hope my boss isn't a hard ass. I don't want to work weekends and stuff."

Sittenfeld's father commented, "We're very proud of PG Sittenfeld." He also explained he and his wife respect their son so much that they have always referred to him formally as PG Sittenfeld instead of just PG. Friends say when Sittenfeld was a boy, his father often said things like, "Hey PG Sittenfeld, let's go out and toss the ball around."

"I really look forward to seeing how PG Sittenfeld does with the job, but really, I'm looking forward to being able to storing my things on the ping pong table again." said Sittenfeld's mother.

"My parents' basement will always have a special place in my heart," said PG. "It's where I designed my campaign on Google Campaign Buildier, where I snuck my first beer, and where I had hoped to successfully complete my first one-handed bra snap removal."

SIttenfeld is now looking forward to meeting other members of council, and may even invite them over for a party in the basement, but only if he is sure his parents will be out of town.