our breathtaking newsletter
Weekly gloriousness sent to your inbox.
Sunday, May 26th - 1:00 PM-1:00 PM

DERF Happy Hour
Keep checking back here to find out where the next DERF Happy Hour will be!
Mayor Mallory thrilled to begin wearing dreadlocks wig indefinitely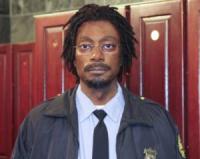 CINCINNATI, OH - Since appearing on the CBS show Undercover Boss, outgoing Cincinnati Mayor Mark Mallory has eagerly anticipated the chance to wear the dreadlocks wig on a more permanent basis. An anonymous staffer in the office of the Mayor said the Mayor has always kept the wig nearby, usually in his briefcase, glove compartment, or lunch bag.

"That wig is something the Mayor has always cherished", said Mayoral assistant Mark Hutchinson. "Sometimes during unusually stressful city council meetings I noticed the Mayor reaching into his lunch bag and gently caressing the wig until things calmed down."

Following the city elections this week, the Mayor announced his plans to wear the wig indefinitely after he leaves office. "This is an exciting time in my life. I invite the community to join me at Tucker's Restaurant next month on my first day as a private citizen for my official re-wigging. I would be honored if Mayor-elect Cranley would preside over the ceremony. I haven't heard back from him about that yet. I hope he isn't dreading the decision, no pun intended. I do have a less conspicuous Rastafarian wig he is welcome to borrow even if only for the day."
Mayor Mallory also discussed his ongoing squabble with city officials about his desire to include the dreadlocks on the Washington Square statue being built in his likeness next year. The city maintenance director has stated the cost to clean bird droppings from the dreadlocks would be exhorbitant. Mayor Mallory has offered to clean the dreadlcoks himself every week. "My friends and I will make a day of it. Breakfast on me at Tucker's and and then as long as no one gets shot we'll head to the park and scrub those statuesque dreadlocks. Also, we will respect the personal space of any citizens who may be worshipping the statue at the moment."