our breathtaking newsletter
Weekly gloriousness sent to your inbox.
Saturday, June 23rd - 7:30 AM-12:00 AM

DERF Happy Hour
Keep checking back here to find out where the next DERF Happy Hour will be!
Bill Clinton spends holiday weekend in airport security line, misses 8 flights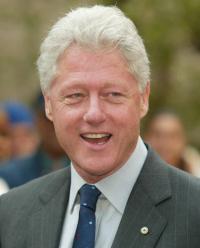 NEW YORK, NY - Passengers at JFK airport were surprised to see a familiar face Thanksgiving weekend as they made their way through airport security. Former President Bill Clinton spent the entire weekend in line reportedly to ensure the new airport security inspection procedures were implemented effectively.

Clinton aides said the Former President missed a total of 8 flights to his home state of Arkansas choosing instead to personally go through the security line repeatedly each day. He requested a pat down dozens of times and appeared to be in very good spirits throughout the weekend.
"I know there are a lot of people concerned about the enhanced security techniques," said the former President. "Well, I'm here to tell you that they are nothing short of delightful. Especially if you go with the pat down option and are lucky enough to get TSA Inspector Brenda. She has the hands of an angel."
Clinton also made time to spend several hours observing the new enhanced body scanning screens. "It is fabulous technology," he reported. "We live in such an amazing time. To think that my boyhood and adult dream of using X-ray specs finally came true!"
Clinton also remarked on how well travelers seemed to be taking the new measures in stride. "I think it's because they know it really isn't an invasion of privacy. Whether its that cute coed on her way home to Thanksgiving in Mobile, Alabama who just got herself a couple of fun little private area piercings or any other passenger...everyone seems pretty cool. And, by the way, your former President thanks you for that."