our breathtaking newsletter
Weekly gloriousness sent to your inbox.
Saturday, June 23rd - 7:30 AM-12:00 AM

DERF Happy Hour
Keep checking back here to find out where the next DERF Happy Hour will be!
Congress working nights collating Obamacare applications until website functional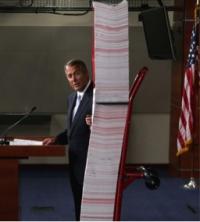 WASHINGTON, DC - In a rare show of bipartisanship, members of Congress have joined together to begin collating Obamacare applications. The all-night collating sessions are expected to continue until the healthcare website is up and running correctly.

Senators and Representatives began the extensive collating after a challenge was made on the floor of the House. "The people are being let down by their government, said Congressman David Holland of Georgia. "A room full of monkeys would be better at doing the work that the Obamacare website should be doing." Fellow members of Congress then realized that they were, in fact, similar to a room full of monkeys and decided to prove the point by attempting to collate the documents themselves.

Though they have agreed to work together, the collating has not gone forth without a few partisan squabbles. Democrats were quick to begin bragging that they were doing a better job at the task than Republicans. "I see that my friends from across the aisle have a smaller pile of completed work," said House Minority Leader Nancy Pelosi. "I may get some flack from constituents about this, but let the record show that collating is women's work, particularly Democrat women."

Republicans were quick to jump on the accusation, saying that their collated documents were being attended to quickly and more efficiently than the Democrats. "Let the record show that Republican collation is a success," said Senator Ted Cruz. "While Democrats were spending their time in school taking wasteful, lie-filled classes about evolution and climate change, Republicans were pulling themselves up by their bootstraps and succeeding in Clerical Studies classes."