our breathtaking newsletter
Weekly gloriousness sent to your inbox.
Monday, April 6th - 1:00 PM-1:00 PM

DERF Happy Hour
Keep checking back here to find out where the next DERF Happy Hour will be!
Donald Trump pledges his administration will avenge death of Jon Snow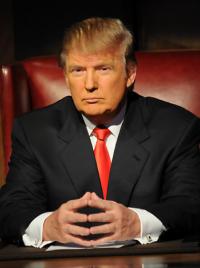 NEW YORK, NY - In a rousing press conference, billionaire tycoon Donald Trump announced his intention to enter the 2016 Presidential race. Trump made many promises and bold statements during the announcement, not the least of which is his pledge that it will be a top priority of his administration to avenge the death of Night's Watch Commander Jon Snow.

"Indeed my friends, winter is coming," said a stern-faced Donald Trump. "And though the night may be dark and full of terrors, in my campaign the morning is bright and full of really simple solutions to complex problems. For example, we're going to end the drought in California by using water from the Pacific Ocean. I looked it up, California sits right there on the ocean. One of my advisors told me that the reason they don't use ocean water is because there is salt in it. I looked him square in the eye and said, 'Here's what we're gonna do. We're gonna take the salt out of it. I don't care if it takes days. We're gonna take all the salt out of that water and then we're gonna sell the salt to a salt company.' Then, I fired him."

Though Trump has a long list of problems in the country that he plans to quickly correct, his passion for avenging the death of Jon Snow appears to be a top priority. "Look, we need to once again be a country that stands for something," said Trump. "As President, I will not let the rest of the world think that the United States of America will sit back and do nothing after the Lord Commander of the Night's Watch is killed in cold blood. Did I agree with Jon Snow's stance on the Wildings? No, not really. If I were Lord Commander of the Night's Watch, I would have built a really big wall to make sure no Wildings got through, but that's just me. Having said that, Jon Snow did not deserve to die, and the traitors who killed him will pay. Not only that, but I feel a personal connection with Jon Snow. Us guys with beautiful, luxurious manes of hair need to stick together."

Donald Trump's obsession with the world portrayed on HBO's Game of Thrones continued as he went on to attack his presumptive Democratic opponent. "And I'll tell you something about Hillary," he railed. "When I get done with her, I will not graciously accept her concession on election night. She will be forced to confess to all of her crimes. She will then be stripped of all of her clothing and be forced to walk nude out of Washington while being followed by people chanting 'Shame....Shame....Shame...'"