our breathtaking newsletter
Weekly gloriousness sent to your inbox.
Friday, January 24th - 4:00 PM-9:30 PM

DERF Happy Hour
Keep checking back here to find out where the next DERF Happy Hour will be!
Hillary Clinton and Donald Trump employ cupping for extra boost in campaigns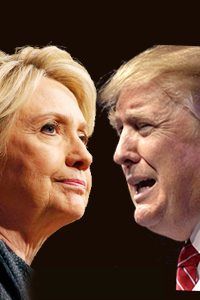 WILMINGTON, NC - Following a campaign rally in Wilmington, North Carolina, Republican Presidential candidate Donald Trump turned his back to the crowd and many noticed the large red circles on the back of his neck near his collar. At another rally in Tampa, Florida, supporters of Hillary Clinton noticed similar discolorations. After questions were raised with both campaigns, it has been revealed that both candidates are employing the cupping technique used by Olympic athletes in hopes of boosting their campaigns.

The Clinton campaign has been secretive about exactly how much cupping is going on. "Secretary Clinton is entitled to privacy in this matter," said spokesman Harold Blackmon. "The exact locations and number of suctions have been accounted for, though several may have been deleted through no fault of Mrs. Clinton or her campaign, or her private cupping server. Any further questions can be addressed to Mrs. Clinton when she holds a news conference. Which, will be never."

Hillary Clinton first became aware of cupping several years before the Rio Olympics. "She actually learned about it from her husband," said former advisor Paul Begala. "He came home one night with red blotches on various parts of his body and he explained to her the benefits of cupping. It turned out that the marks on Bill were actually hickies, but the explanation still took root."

"This cupping thing is turning out to be huge," said Republican nominee Donald Trump. "It's even making America win again. In the Olympics. Notice, for the past four years, the USA has not won even one medal in the Olympics. Thanks Obama. But now we are winning again. Thanks to me. And suction cup attachments on the skin. Which are awesome and they look great on me. I am tempted to go shirtless horseback riding with Vladimir Putin to show everyone how great the red circles look on my beautiful orange skin."

When asked how and where he gets the suction cups applied, Trump responded, "There's a very smart, coherent young man who hangs outside Trump tower. Smart kid. Well spoken kid. Good supporter. He has suction cups. He says he's gonna use them to climb my building, but for now he's happy to use them to cup my body."