our breathtaking newsletter
Weekly gloriousness sent to your inbox.
Monday, April 6th - 1:00 PM-1:00 PM

DERF Happy Hour
Keep checking back here to find out where the next DERF Happy Hour will be!
Donald Trump admits to killing puppies, rises 6 points in polls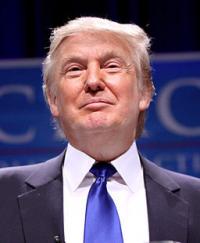 NEW YORK, NY - The latest controversy involving Republican presidential hopeful Donald Trump has not hurt his status as the race's frontrunner. Days after Trump admitted to randomly killing puppies, his lead in the polls grew by six points.
Much like previous incidents that pundits believed would hurt Trump, the puppy killing affair has only bolstered his standing as an outsider and a non-traditional politician.

"Donald has my vote all the way," said fervent supporter Daniel Gunther of Florence, Missouri. "Any of these other politicians, if they killed a puppy, they'd hide it. They'd hire a PR firm and go on TV and cry about it like a big baby. Hell, I'll bet Hillary is killing some puppies right now as we speak. But we won't hear about it because of the liberal media and because she has a staff of hundreds of people who spend all day just covering up for her."

"The puppy killing, that was a hell of a move," said political analyst Paul Begala. "Politicians have been scared away from the whole dog abuse thing since Lyndon Johnson held up that beagle by its ears. Donald Trump just let the whole world know that he's not afraid to go where others refuse, and many voters find that to be a refreshing change. Luckily for Donald, Charles Manson is not running for President. Charles' penchant for not being afraid to speak his mind might resonate with the voters even stronger than Donald's."

Though it resulted in a spike in his poll numbers, Donald Trump insists that the puppy killing was not a politically motivated stunt. "Look, those puppies had it coming," said Trump. "They were losers. Don't get me wrong, there are some good dogs out there, but these were losers. Just crawling around, chewing on toys, peeing and pooping. Not the types of puppies we need to make America great again. So, I fired them. By which I mean, I killed them. And I did a tremendous job."

Other GOP candidates, perhaps fearing reprisal, have largely ignored Trump's puppy killing. New Jersey governor Chris Christie, however, did step into the fray. "The killing of puppies by Donald Trump was a disgrace, ok?" said Christie. "What was the point? I urge my fellow Americans to put their trust in me as a great leader and as a superior puppy killer. I, for one, would have made sure that those puppies were eaten after they were killed. Even if I had to do it myself. Right there after I killed them. They're really not bad raw."

For his part, candidate Jeb Bush attempted to cash in on the momentum Trump gained after the incident. "I am one hundred percent against all of this political correctness we have today," said Bush while glumly poking a labrador retriever with stick. "I have never been afraid of doing what I think is best, including poking this dog with a stick." However, the labrador quickly grew bored with Jeb's poking and wandered off, along with the assembled crowd and media.