our breathtaking newsletter
Weekly gloriousness sent to your inbox.
Saturday, June 23rd - 7:30 AM-12:00 AM

DERF Happy Hour
Keep checking back here to find out where the next DERF Happy Hour will be!
Obama Administration hires George Zimmerman to threaten Syrian President with handgun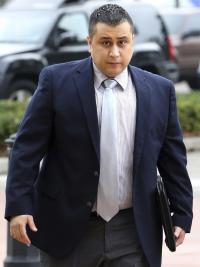 WASHINGTON, DC - In an effort to punish the Syrian government for the supposed use of chemical weapons on citizens, the Obama administration has enlisted the help of George Zimmerman. Zimmerman has been hired to menacingly brandish a handgun in the general direction of Bashar al-Assad and his regime.

"That guy just looks like he's up to no good," said Zimmerman. "I'm glad to have the opportunity to help out my country, and I gladly accept the administration's offer to get up in Assad's business. Although, I might have gone ahead and done it anyway even if they hadn't asked me to. It's kind of how I roll."

The Obama administration contacted Zimmerman for help after taking note of the discontent among Americans with regard to military intervention in Syria. "George Zimmerman is the perfect man for this job," said a defense department official who declined to be identified. "It's definitely a political win. The people who don't like him can at least understand how he could be useful in this situation, and the people who think he's a hero who can do no wrong are going to love us for giving him an assignment. Plus, his ex-wife is gonna be thrilled to have him out of town for a while."

It is not certain how the al-Assad regime will respond to Zimmerman's threatening handgun motions. Syria called for other Arab nations to stand up and fight against him, but none have responded. There was some initial interest from Iran, but their government stood down after discovering that Zimmerman was not Jewish, despite his last name.

The Syrian government also continues to insist that they are not responsible for a chemical weapons attack on citizens. They maintain that they did have forces in the area of the attack, but that those forces were only on their way to the store to buy Skittles.