our breathtaking newsletter
Weekly gloriousness sent to your inbox.
Saturday, June 23rd - 7:30 AM-12:00 AM

DERF Happy Hour
Keep checking back here to find out where the next DERF Happy Hour will be!
Helen Thomas buys retirement condo in Gaza Strip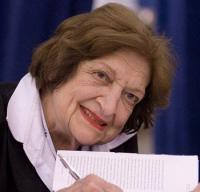 GAZA STRIP - After making controversial remarks regarding Israel and Palestine, senior White House reporter Helen Thomas announced her retirement. Shortly after announcing her retirement, Thomas reportedly put a down payment on a three bedroom ranch-style condominium in the Gaza Strip.
The condo features a large kitchen, walk-in closets and expansive windows offering a panoramic view of the Mediterranean sea. The single level floor plan is expected to be perfect for Ms. Thomas as she does not enjoy climbing stairs in her advanced age. The condo also features a small green area in front where she plans to spend time yelling at children to stay out of her yard.
Helen will begin moving into her new home within the next few weeks, and has made plans to stay busy during retirement. "I've worked it out so I get to ask the first question during every meeting of the condo association. I hope they know I'm not planning on pulling any punches."
Though many in the Jewish community found her remarks offensive, Helen insists that she meant no disrespect. "My statement that Jews seek out new places to live had nothing to do with anti-semitism or a lack of sensitivity to the plight of the Israelites," explained Thomas. "It was simply a commentary on the greater-Israel real estate market. Say what you will about Hammas, but they've really made retirement living affordable."