our breathtaking newsletter
Weekly gloriousness sent to your inbox.
Friday, July 26th - 12:00 PM-12:00 AM

DERF Happy Hour
Keep checking back here to find out where the next DERF Happy Hour will be!
Islamic extremists declare war on Family Circus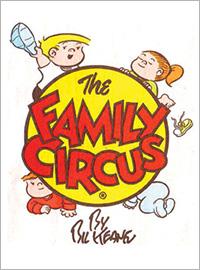 BAGHDAD, IRAQ - In their latest move against the world of comics, a band of Islamic extremists has declared war on the seminal American comic strip The Family Circus. The group's spokesman says that the Family Circus is an affront to Islam and a mouthpiece for American imperialism.

"May the fiery storms of a thousand deaths descend upon them," said an unnamed spokesman for the group. "Bil and Thelma and their wisecracking children have mocked our jihad for the last time. We will bury them. Then, all of the clipped Family Circus cartoons that are displayed on American refrigerators will no longer serve as a reminder of the lightness of human condition, but as a reminder of the failure of dog faced imperialism. And when we say 'dog-faced,' we specifically refer to the family mongrel, Barfy."

"At first I was quite alarmed," said Family Circus writer and president Jeff Keane. "I thought maybe we should address this situation within the strip, and write a series based on this call for war against us. But then, I was in the grocery store and I saw this little kid who kept adorably messing up the names of the cereals. I mean, he called 'Cheerios' 'Cherry Uh-ohs." Obviously, the next several months of strips will be based on the hilarity I saw in the store that day. Besides, if the terrorists wanna come after me, they better come correct. I live in a fortified compound and I am armed to the teeth."

The international community has thrown their support behind The Family Circus. "As a body, we condemn this declaration," said UN spokesman D'Tumbe Maktando. "We stand firmly behind The Family Circus and the affable hilarity that results in their everyday life. The UN General Assembly has agreed on the following: We are all Billy. We are all PJ. We are all Dolly. We are not, however, not all Jeffy. He is a bit of a turd."

Moderate Islamic groups have been quick to condemn the declaration of war. "These extremist groups do not represent Islam as a whole," said Islamic studies professor Dr. Hammid Rhodes. "There is no reason to declare war on The Family Circus for they have not insulted our religion. Although, they do insult any sane person's sense of humor, and they have been coasting on the same set of jokes for the last forty years. So, yes, they should be crushed, but in the name of decency, not in the name of Allah."