our breathtaking newsletter
Weekly gloriousness sent to your inbox.
Wednesday, February 19th - 5:00 PM-9:00 PM

DERF Happy Hour
Keep checking back here to find out where the next DERF Happy Hour will be!
State of the Union security tightened to prevent Joey Porter from rushing podium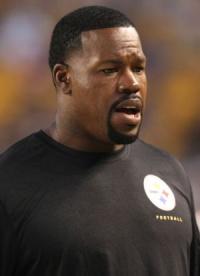 WASHINGTON, DC - The State of the Union Address is always subject to massive security concerns, with this year being no exception. However, the Secret Service and various other law enforcement agencies put extra precautions in place this year out of concerns that Pittsburgh Steeler coach Joey Porter would try to rush the podium.

"We had credible information that Mr. Porter was in the area," said Secret Service spokesman Kevin Hearst. "Obviously, we sprang into action. We are fully aware of Joey Porter's capabilities to break the rules and end up standing in places where he has does not belong. He is also quite emotional and unstable, the perfect combination for disruption. There was no way we were going to allow him to cause chaos and disruption. What do we look like? A bunch of NFL referees?"

Porter was, in fact, in Washington DC during the State of the Union address. Fortunately, he did not get close to or enter the Capitol building at any time. He was last sighted near the Jefferson Memorial where he had inserted himself in the midst of a group of schoolchildren from Minnesota who were touring Washington. "The bad man jumped up in front of me and called me a punk-ass," said second grader Trevor Lynn. "He was talking so loud it made my ears hurt and sometimes he spit when he talked. He said the Jefferson Memorial was dumb and the Lincoln Memorial was where winners went, so that made us a bunch of losers. He was mean and said very bad words."

The incident is just one of many in recent days for Porter, who has followed up his rule breaking presence on the field during the Steelers vs. Bengals playoff game with similar disturbing behavior. "Yes, we are concerned but believe that we now have Joey under control," said Porter's manager and agent Jack Crosby. "He will soon be issuing apologies to the second graders who he yelled at in Washington and the staff of the Taco Bell where he jumped behind the counter to trash talk the gordita maker. He will also issue and apology to the Hollywood Foreign Press Association, for attempting to rush the stage during Jennifer Lawrence's acceptance speech at the Golden Globes. He simply wanted to let Miss Lawrence know that he is a big fan, and also tell her that he is really awesome."