our breathtaking newsletter
Weekly gloriousness sent to your inbox.
Monday, May 28th - 1:00 PM-1:00 PM

DERF Happy Hour
Keep checking back here to find out where the next DERF Happy Hour will be!
John Edwards impregnates juror numbers 2, 5, 6, 9, and 11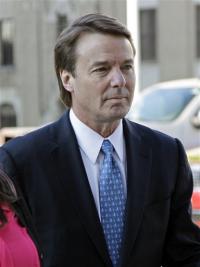 GREENSBORO, NC - In a shocking turn of events at the John Edwards criminal trial, it has been revealed that the defendant has impregnated all five female members of the jury. The other seven members of the jury include six men and one transender individual whom Edwards reportedly attempted to impregnate.

Jurors number 2, 5, 6, 9, and 11 have all been confirmed to be pregnant with John Edwards baby. In addition to the pregnancies, each of the women contributed money to Edwards' legal defense fund, two gave him money for an as yet unannounced run for public office, and one gave him her family's houseboat and full use of their Outer Banks time share condo.

Prosecutors are now unsure how to proceed. "We believe we have a strong case against Mr. Edwards," said prosecuting attorney Martin Douglas. "Now we just have to figure out if impregnating five of our jurors will make them more sympathetic to the defendant or less. I have not had a lot of experience with women, but I am inclined to believe it is less."

Court officials were shocked and outraged that Edwards gained access to the jury pool and launched an official investigation into the matter. After careful consideration of all the facts and evidence, they determined that the lapse in security occurred due to John Edwards outrageous good looks and unending charm. "We take the integrity of our juries very seriously," said court officer Marcus Hamilton. "But there is only so much you can do when you're dealing with those boyish good looks, windswept hair and devilish smile. Don't tell my wife, but I wouldn't mind having a crack at that dude."

As the issues of the case and the tainted jury pool are worked out, former President BIll Clinton has offered a helping hand. "As everyone knows, I believe in the justice system," said Clinton. "Therefore, I offer my assistance in vetting this North Carolina jury pool. I think I am singularly qualified to figure out just how slutty these jurors are."