our breathtaking newsletter
Weekly gloriousness sent to your inbox.
Friday, January 24th - 4:00 PM-9:30 PM

DERF Happy Hour
Keep checking back here to find out where the next DERF Happy Hour will be!
John Kasich thanks supporters, staff, and stylist at Supercuts after ending campaign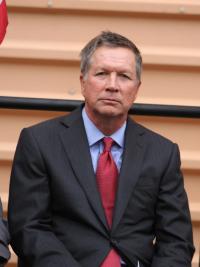 COLUMBUS, OH - Following his withdrawal from the race for the 2016 GOP Presidential nomination, Ohio Governor John Kasich was hopeful for the future and evasive of questions involving his future plans. He did, however, enthusiastically thank his supporters, campaign staff, and his stylist at Supercuts for their efforts in his bid for President.

"When I look back on this campaign, I will have no regrets," said Governor Kasich. "I will remember the wonderful people I met at the town halls, and my tireless volunteers. I'll remember the dedicated people who put in long hours to make this campaign the best it could be. And, of course, I will remember Mindy from the Dublin, Ohio Supercuts. Her expert styling led me to be the best I could be."

Mindy Stalling has worked at the Dublin Supercuts for five years following a six week beautician course at Columbus Technical College. Though the Governor was effusive in his praise, Mindy insists she was just doing her job, and treated him no different than any other customer. "I was pretty shocked when I saw him on TV actually," said Stalling. "I had no idea I was cutting the hair of the Governor, much less a Presidential candidate. I just treated him like any other customer who happened to have $8, a coupon, and a head full of weird cowlicks. Well, I did treat him differently in one sense. After he started showing up with a police escort, I didn't drink as many margaritas during my lunch at the Mexican restaurant next door. One more DUI and I'm in serious trouble on all fronts."

Kasich would not commit to confirming that he will continue to visit Stalling at the Dublin Supercuts. "It may be time for me to take a step back," Kasich explained. "Spending big bucks on a haircut like that is something I was doing just to keep the donors happy. Now that I'm out of that rat race, it might be time to bust out the mixing bowl and go back to cutting my own hair at home."