our breathtaking newsletter
Weekly gloriousness sent to your inbox.
Saturday, August 17th - 5:00 PM-12:00 PM

DERF Happy Hour
Keep checking back here to find out where the next DERF Happy Hour will be!
City offers Mayor Mallory streetcar tokens in lieu of car allowance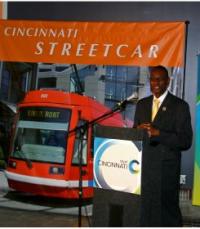 CINCINNATI, OH - Following weeks of controversy involving the car allowance that the city of Cincinnati offers the mayor, city officials have offered to compromise by giving Mayor Mark Mallory streetcar tokens instead of money for a car.

"Though I fear that I may never see the car allowance again," stated Mallory. "I am thankful for the city being kind enough to offer me streetcar tokens so that I may enjoy it as a form of transportation. Now, I'll just have to find some places along the subway route that I actually want to visit. And, I guess I'll also have to wait for it to be built. But eventually I can see myself riding a streetcar that will soon be built for people who may or may not be on their way to a casino that may or may not exist."

The tokens will be given to the mayor on the first of every month. No actual Mayoral tokens for the Cincinnati street car have been minted yet, so for the time being he will be given rolls of tokens from the Oakley Laundromat. The Mayor may use some of the tokens to actually do laundry but this is expected to be accomplished using an assistant because the Mayor prefers not to associate with the segment of the citizenry that uses laundromats.

Though this effort may seem to have settled the issue, a new problem is now cropping up as a result. "Being forced to ride the street car is going to result in additional expenses," explained the Mayor. "For example, I can't be expected to wear my usual dapper clothing on a streetcar filled with common folk. They may get dirty or stolen. Therefore, I ask that the city allow me a new clothing budget of $500 a month in order to buy some casual slacks, dungarees, and assorted other clothes that people who use public transportation wear."