our breathtaking newsletter
Weekly gloriousness sent to your inbox.
Sunday, January 26th - 11:00 AM-5:00 PM

DERF Happy Hour
Keep checking back here to find out where the next DERF Happy Hour will be!
Presidential mini-golf game ruins childrenís birthday party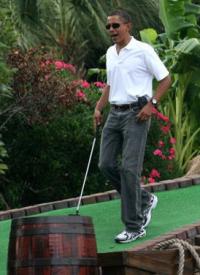 HONOLULU, HI - President Barack Obama has once again stirred up the ire of his critics, just days after forcing a couple to upend their Hawaiian wedding because of his golf game. This time, the President's visit to a miniature golf course completely ruined the birthday party of several children.

"We were just finishing up with pizza and soda," said the irate mother of Piper Lansford. "Little Piper was all excited to be able to move on to cake, ice cream, and a round of miniature golf when we were told that we'd have to submit to security checks and move to the parking lot because the President wanted to get in a quick round on the course. His fifth birthday will be forever remembered as the year Barack Obama punched him in the stomach. The clown we hired was detained by Secret Service because he had an unlicensed firearm. I'm just glad we were able to get the cake out to the car before that busy-body Michelle Obama confiscated it for not being healthy enough."

The White House has issued an apology to each of the four children's families who were celebrating birthdays at the Capital Adventure World Amusement Center. "We regret any inconvenience the President's visit caused," said Presidential Press Secretary Robert Gibbs. "However, it should be noted that the Republican Congress has offered no solutions as to how the President can move forward with his mini-golf strategy without following proper security procedure. For now, the President simply offers his apologies to the families and extends an offer to host them at the White House when he returns to work, which should be sometime in early summer 2015."

Fox News has pounced on the incident, running twenty four hour coverage of the event while displaying the headline banner, "Obama declares war on fun." Fox and Friends morning show host Elisabeth Hasselbeck was effusive in her disgust. "I don't think I am overstating this when I say that this is probably the worst scandal in the history of America," said the pouting blonde journalist while repeatedly crossing and uncrossing her legs. "But stay tuned to Fox, because there will probably be something worse next week."