our breathtaking newsletter
Weekly gloriousness sent to your inbox.
Sunday, April 22nd - 11:00 PM-5:00 PM

DERF Happy Hour
Keep checking back here to find out where the next DERF Happy Hour will be!
President Obama thrilled to find personalized Coke can in White House kitchen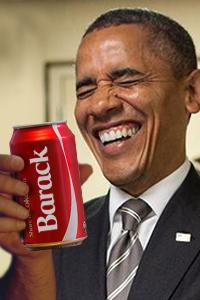 WASHINGTON, DC - During his weekly press conference, President Obama addressed several topics including the Ebola crisis and the Israel-Gaza conflict but was most enthusiastic while commenting on his discovery of his personalized Coke can in the White House kitchen.

The White House Press Corps were captivated by the President's description of the moments leading up to the discovery. "I walked into the kitchen like I do everyday and there it was! I couldn't believe it. I didn't have to rummage through cases of Coke cans to find my name like I've been reading about everyone else doing. I was incredibly lucky.

"The Share A Coke campaign launched by Coca-Cola which allows people to find their name on a can of Coke has generated buzz and brand conversation across the country since launching 6 weeks ago. Representatives say the company used only the 250 most popular U.S. names on the cans so the name Barack barely made it into the program.

President Obama continued, "Here's where it gets really amazing. I was ready to run out to 7-Eleven to find personalized cans for Michelle and the girls but I looked around for a couple more seconds and I found cans for the whole family sitting right their together almost like they were waiting for me to find them! There was even one for our dog Bo! What are the odds? This was an incredible time saver for me. I was already stressed about the Ebola crisis so I definitely did not need an extended search for personalized Coke cans.

"Representatives of Coca-Cola said, "We are pleased the President was able to enjoy the promotion so conveniently and efficiently. We can't promise everyone's experience will be the same. Most Americans will have to suffer the indignity of fighting over each other and risking injury rooting around at convenience stores to find their names. But that's all part of the fun and we still hope people will still post a picture of their can on Twitter using the hashtag #shareacoke."