our breathtaking newsletter
Weekly gloriousness sent to your inbox.
Saturday, September 21st - 8:00 AM-10:00 AM

DERF Happy Hour
Keep checking back here to find out where the next DERF Happy Hour will be!
Report: Dwight Eisenhower exaggerated about serving in WWII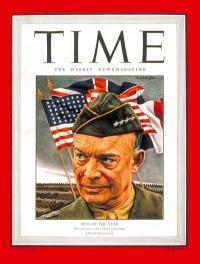 WASHINGTON, DC - Yet another controversy is brewing involving an individual making exaggerated claims about encounters with the military. A report is now stating that former President Dwight D Eisenhower repeatedly exaggerated claims about serving in the second World War.

"We've done a great deal of research into the situation," said political columnist and online investigative reporter William Parks. "It seems that despite his many boasts, General Dwight Eisenhower was not as close to the action as many have been led to believe. This project started after I took it upon myself to review footage of the D-Day invasion, as well as a few screenings of The Longest Day and Saving Private Ryan. Despite all of this research, I was never once able to spot General Eisenhower on the beach at Normandy. In fact, I've collected quite a bit of evidence that in the days leading up to the invasion, Eisenhower was no where near France. He was, in fact, attending meetings and spending a great deal of time asking people about upcoming weather forecasts."

Bill O'Reilly, also under scrutiny for claims about his involvement in the Falklands war, addressed the Eisenhower issue with his highly rated television audience. "Look, I'm going to explain this in a way even liberals can understand," said O'Reilly during his Talking Points Memo segment. "I'm not a huge fan of Eisenhower, we all know that he was a RINO. The guy never once took a stance on illegal immigration or the War on Christmas. But still, my research staff tells me he was definitely part of the army at some point in the 1940's, ok? So, as a man who has spent time in the same general vicinity of a warish-type zone during the Falklands Conflict, I can tell you that Ike and I share a bond and everyone should just back off."

Brian Williams, whose exaggeration of his experience during the Iraq war started this current media scrutiny of war claims also came to Eisenhower's defense. "I am truly sorry to see this happen to a great man," said Williams. "Eisenhower was, in fact, the Supreme Allied Commander of Europe during the Second World War. He was integral in the planning and execution of many key operations, and these operations were not only genius but also helped America and her allies win the greatest world conflict this planet of ours has seen. And I know that these facts are true. Because I was right by Ike's side, as his most trusted advisor."

Despite many defenders coming forth to back up Eisenhower's claims of his service record in World War II, many remain convinced that they are just another instance of someone in the public eye taking literary license with the truth. "I think we've only scratched the surface of his truth stretching," said blogger Michael Kramer. "The good news is, I don't think he was doing it to bring glory upon himself. I think he was just making up all that stuff about being an Army General so he could get out of the house without his old lady nagging him."