our breathtaking newsletter
Weekly gloriousness sent to your inbox.
Saturday, May 26th - 1:00 PM-1:00 PM

DERF Happy Hour
Keep checking back here to find out where the next DERF Happy Hour will be!
Donald Trump demands to see Bin Laden death certificate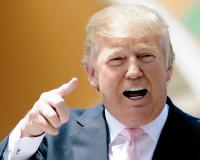 NEW YORK, NY - As news spread throughout the world that United States forces had killed Osama bin Laden, not everyone believed the reports were true. In a statement made just minutes after President Obama addressed the nation, Donald Trump demanded to see Osama bin Laden's death certificate.

"In business I have learned that things are not always as they seem," said an incredulous Donald Trump. "I've not seen the dead body of Bin Laden, nor have I been given the opportunity to examine it. I've not personally inspected any documents that support the claim that bin Laden is dead. Some say he is dead, others disagree. One of those others is me, so it is obviously a huge national concern."

Officials from all branches of government including the Department of Defense, CIA, and State Department did not respond to Trump's request to see the death certificate. The lack of response only managed to make him further doubt their claims that bin Laden had been killed. "If this administration has nothing to hide," asked Trump. "Then why don't they respond to my phone calls made at 11:30 on a Sunday night? Are you trying to tell me there is anything more important going on in Washington at that time than a phone call from the Donald?"

Trump promises that he will go on every available talk show in an effort to get the administration to release the death certificate. "I want to make sure they understand I am not going to give up," said Trump. "And I don't want a short, suspect death certificate either. I want to make sure it is a long form death certificate, preferably with imprints of his feet. When that death certificate is finally released, only then will I begin being proud of myself for bringing this long national nightmare to an end."

Trump added that he would also like to see a death certificate for Elvis, Jim Morrison, and Jimmy Hoffa. "And while I've got the document bookworms on their toes, I'd also like to see a certificate of death for Tupac Shakur, because quite frankly that young man was too talented, too beautiful, and too dope to die."
Related Stories