our breathtaking newsletter
Weekly gloriousness sent to your inbox.
Thursday, July 11th - 3:00 PM-9:30 PM

DERF Happy Hour
Keep checking back here to find out where the next DERF Happy Hour will be!
Honey Boo Boo gets high marks for moderating Vice Presidential Debate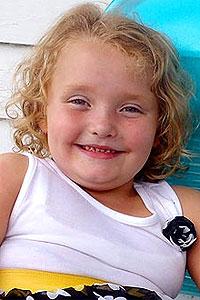 WASHINGTON, DC - In a surprising announcement, the Commission on Presidential Debates has announced that Honey Boo Boo has been asked to moderate the upcoming Vice Presidential Debate. Spokesmen for Ms. Boo Boo have confirmed that the final arrangements are being made and that she is looking forward to the opportunity.

"I'm gonna talk to those menfolk," said a clearly elated Honey Boo Boo. "Then they're gonna give my Mom some money and she's gonna let me set stuff on fire if I do a good job. I just hope I don't fart!" Honey Boo Boo then abruptly ended the interview, scampering off to some nearby woods where she began chewing the bark off of trees.

"After years of campaigning and reams of data and information," said debate organizer Dr. Marvin Smith. "There are still people who call themselves undecided. We came to the conclusion that there is no better way to speak to these people than through the darling little freak show we all know and love as Honey Boo Boo. With her on board we might get enough viewers to beat whatever they're running on the CW."

Vice President Joe Biden says that he is unfazed by the choice of moderator. "Seems like a good enough kid," said the VP. "I've clearly seen worse in my 40 years in Washington. I'll have to get some of her go-go juice to give the President so he doesn't fall asleep onstage again at the next debate. Mostly, it's gonna be nice to be at the debate with someone who might actually be more of an unpredictable loudmouth than me. Did I mention I hate Isreal and the moon landing was faked?"

Republican VP nominee Paul Ryan also seems pleased with the choice. "Unlike big city liberal democrats," said Ryan. "I believe there is much to be learned from all people in this country, including those they might denigrate as rednecks from the rural south. I have much to learn from Honey Boo Boo, in fact she has already inspired me to rethink my position on abortion."