our breathtaking newsletter
Weekly gloriousness sent to your inbox.
Thursday, July 11th - 3:00 PM-9:30 PM

DERF Happy Hour
Keep checking back here to find out where the next DERF Happy Hour will be!
U2 album giveaway at voting polls fails to bolster voter turnout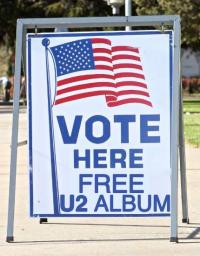 NATION - Voting polls across the country this week reported the lowest voter turnout in over a decade. Plans to increase voter participation included automatically downloading a free U2 album to every voter's smartphone after their ballot was cast.
Voting polls reported receiving an overwhelming number of objections from voters. "This incentive proved to be a disincentive. Many voters were gave up their right to vote rather than tolerate the intrusion on there phone." said Ohio Board of Elections Spokesperson Markus Telluride.
In statement released to media officials, Apple CEO Tim Cook said, "I don't have any comment on U2's poor choice to use a major national event as an automated music distribution portal. But I would like to take this opportunity to once again mention I am gay. Also the Apple Watch will be available for purchase in the spring."
U2 singer Bono commented, "We just wanted to make sure people heard this album because we feel it is the best work of our lives. What better way to maintain a fan base than force our music onto everyone's phone via some sort of intrusive cloud technology?"