our breathtaking newsletter
Weekly gloriousness sent to your inbox.
Saturday, November 16th - 5:00 PM-10:00 PM

DERF Happy Hour
Keep checking back here to find out where the next DERF Happy Hour will be!
Powerful wedding planner lobby helped pave the way for gay marriage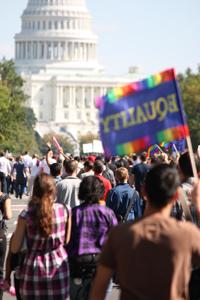 WASHINGTON, DC - Supporters of same sex marriage have been celebrating a victory handed down by the Supreme Court. However, many advocates are now saying that the real credit for the upholding of state gay marriage laws should go to the powerful lobby of the Wedding Planners of America, who have long pushed the issue.

"We believe in equality for all," said executive director of the Wedding Planners of America Political Action Committee Thomas Blevins. "That notion of equality is what has driven our organization to support gay marriage. The fact that gays also tend to throw lavish, expensive parties just happens to be a bonus which will have a positive economic impact on our members."

The "WPAPAC" as they are known lobbied on the state level for laws that would legalize the practice. "I'm not one to be influenced by lobbyists," said California State Representative Darrel Hodge. "These citizens just did a very good job of presenting their case by citing court cases, the Constitution, and legal precedent. They also presented their case at some rather stunningly decorated receptions, featuring delicious canapés and elderflower cocktails."

The resulting impact of gay marriage to wedding planners and the wedding industry in general is expected to be huge. "I think we can safely say that the money will be flowing," said Sacramento based wedding planner Waylon Hart. "The cost of the average wedding is going to skyrocket, even the shabby-chic crafty weddings are going to increase in price based on glitter needs alone. The party industry has always been bolstered by the gay community, but the prospect of more gay weddings is like having Christmas, the 4th of July, and the Tony Awards all at once every day."

Other lobbying groups who have taken some credit for the back room political dealings leading to gay marriage are the National Association for Tuxedo Advancement, the Strobe Light DJ Rental Industry, and the American Committee for Throw-Pillows on Wedding Registries Council.

Though the Supreme Court itself has always been beyond the reach of lobbying groups, WPAPAC appears to have had at least a small level of contact with them. "It is not a crime to accept small gifts from admirers," said Supreme Court Justice Scalia. "And how in the world could I have turned down this beautiful new hand embroidered robe? Can you believe how nice my ass looks in this?"