our breathtaking newsletter
Weekly gloriousness sent to your inbox.
Saturday, May 26th - 1:00 PM-1:00 PM

DERF Happy Hour
Keep checking back here to find out where the next DERF Happy Hour will be!
Jerome Simpson devours pizza and chicken wings on sideline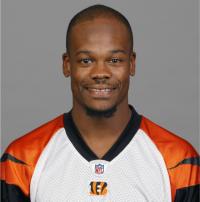 CINCINNATI, OH - In the wake of an investigation involving marijuana that was mailed to his home, Jerome Simpson was spotted on the Bengals sideline eating a recently delivered pizza and large container of chicken wings. Simpson reportedly ordered the food prior of the Bengals game versus the San Francisco 49ers.

Simpson played in the game despite a drug investigation stemming from 8 pounds of marijuana found inside his home. The Bengals organization allowed Simpson to play despite the investigation, citing his work with local charities. "Jerome is a solid member of society," said Bengal spokesman Bob Odenkirk. "His charitable work has been amazing. Especially the time he has put in with the "Raising Buds" organization, which I guess has something to do with helping young buddies."

During the game, Simpson caught only one pass. As the first half came to an end, he appeared to become distracted. He spent several minutes on the sidelines staring at his own hands, and then was seemingly captivated watching the flags blowing in the breeze above the stadium. In addition, while attempting to complete a passing route, Jerome became distracted by the referee's jersey and attempted to pet him. "We're not sure if it had anything to do with the investigation," said Bengals offensive coordinator Jay Gruden. "A lot of that is the same kind of behavior we've just come to expect from our players in general."

Simpson spent much of the third quarter of the game eating in between plays. The pizza was ordered from Dominos, leading to further speculation that he must not have been in a proper mental state.